The Whisky Exchange "JIM MURRAY'S WHISKY BIBLE 2021 – THE WINNERS" – Whisky Bible News
September 19th, 2020

JIM MURRAY'S WHISKY BIBLE 2021 – THE WINNERS
This autumn, whisky things are coming in thick and fast. From the imminently landing
Diageo Special Releases
 to a whole run of rebrandings, new ranges and new releases, it's a slew of riches to make us forget the last six months of quiet. And now, arriving a month earlier than usual, we have the book that marks the beginning of the end of the whisky year – 
Jim Murray's Whisky Bible 2021
.
WHAT'S A WHISKY BIBLE?
Every Autumn, whisky writer Jim Murray publishes a new version of his most famous book – The Whisky Bible. It's a compilation of his tasting notes and scores for thousands of whiskies – 4,500 in 2021 – with usually more than 1,000 new and updated notes added each year, and older and out of date drams culled as necessary.
This year, the theme is new releases, new distilleries and letting the past be the past:
"But the one thing that tasting 1,250 whiskies a year for this book has reinforced in my mind, is that for people to really enjoy whisky of whatever type, then they have to let go of the past and learn to swim."
You can grab a copy of the book from The Whisky Exchange on the Jim Murray's Whisky Bible 2021 page. Also keep an eye out for a second book this year – an updated version of The Art of Whisky, collecting whisky adverts of years gone by.
Outside of the scores, and the infamous 'Bible Thumping' section, in which Jim lays out his current thoughts on the whisky industry, the section that grabs most attention is the Whisky Bible Awards – Jim Murray's favourite whiskies of the year. He may be a controversial figure in the whisky world, but his words have weight, and being named in his top list is an honour that whisky companies compete for.
SO, WHO WON?
Drumroll please…
Congratulations to Alberta Distillers in Canada – the 2021 World Whisky of the Year is Alberta Premium Cask Strength Rye.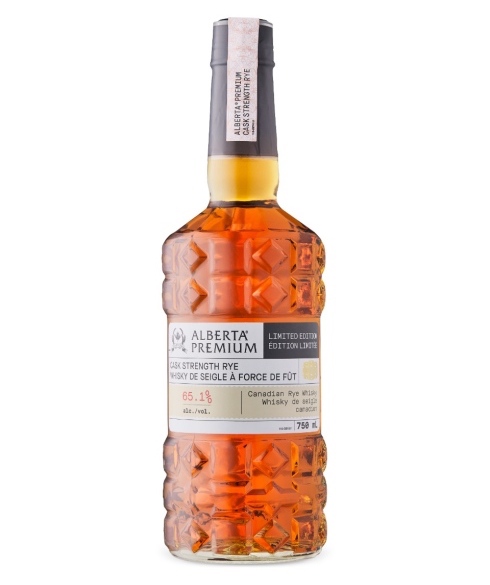 It's a solid choice, and one that follows 2016's selection of Crown Royal Northern Harvest Rye. That caused the shelves to be cleared across Canada and drew a line under the idea that Canadian whiskey was boring, even if the Crown Royal itself didn't pick up that many fans.
Alberta Premium Rye Cask Strength is quite a different beast. For years, Alberta Distillers have been selling their rye whiskey to producers south of the border, including award-winning Masterson's and WhistlePig, who have bottled it under their own labels. At home, the company didn't have a whisky with quite the same reputation, with its spicy 100% rye used as a flavouring whisky or watered down to create good but not earth-shattering whiskies.
In late 2019, however, the company changed that with the launch of a Cask Strength and a Cask Strength Rye, finally showing off its whisky under its own label. It caused a bit of buzz at the time, and Jim agrees – "For any whisky lover on the planet looking for huge but nearly perfectly balanced experience, then here you go."
Annoyingly, it's not available in the UK, but those in North American might still be able to find a bottle. I suspect not for long.
WHAT ABOUT THE OTHERS?
Jim Murray doesn't just stick with one whisky, selecting a total of four – a top three and a single cask:
Second place: Stagg Jr Barrel Proof (64.2%)
Third place: Paul John Mithuna
Single Cask: Glen Grant 1956 Mr George Centenary Edition Gordon & MacPhail
Jim Murray has long been a fan of George T Stagg, so it's no surprise to see its baby sibling – Stagg Jr – turn up in the list. There are many batches of the bourbon, with a bit of variability among them, but they're generally very good. Jim's winning batch is the recent 64.2% edition.
Rounding out the top three comes Paul John Mithuna, a whisky I know nothing about. Jim does sometimes get previews of whiskies coming later in the year – it is The Whisky Bible 2021, after all – so I look forward to seeing what the folks have turned his head with this time. The tasting notes look amazing…
Scotch whisky gets a look in on the single cask side of things with the excellent Glen Grant Mr George. It celebrated the 100th birthday of the late George Urquhart, the second generation of the family that runs Gordon & MacPhail and architect of the company's excellent stocks of whisky and reputation for single casks. A fitting winner. It has, of course, sold out.
JIM MURRAY'S WHISKY BIBLE 2021 – THE WINNERS
The complete list of award winners is below and you can find all of the whiskies we have in stock over on our Whisky Bible 2021 Winners page.
2021 World Whisky of the Year
Alberta Premium Cask Strength Rye
Second Finest Whisky in the World
Stagg Jr Barrel Proof (64.2%)
Third Finest Whisky in the World
Paul John Mithuna
Single Cask of the Year
Glen Grant 1956 Mr George Centenary Edition Gordon & MacPhail
SCOTCH WHISKY
Scotch Whisky of the Year
Glen Grant 15 Year Old Batch Strength 1st Edition
Scotch Single Malt of the Year (Multiple Casks)
Glen Grant 15 Year Old Batch Strength 1st Edition
Scotch Single Malt of the Year (Single Cask)
Glen Grant 1956 Mr George Centenary Edition Gordon & MacPhail
Scotch Blend of the Year
Ballantine's 30 Year Old
Scotch Grain of the Year
Cambus 1979 The Perfect Fifth
Scotch Vatted Malt of the Year
Compass Box The Spice Tree
SINGLE MALT SCOTCH
Scotch No Age Statement
Glen Grant Rothes Chronicles Cask Haven
Scotch 10 Years & Under Multiple Cask
Octomore Edition 10.3 6 Year Old Islay Barley (Category Winner)
Scotch 10 Years & Under Single Cask
Annandale Vintage Man O'Words 2015
Scotch 11-15 Years Multiple Cask
Glen Grant 15 Year Old Batch Strength 1st Edition (Category Winner)
Scotch 11-15 Years Single Cask
Caol Ila 15 Year Old Gordon & MacPhail Connoisseurs Choice
Scotch 16-21 Years Multiple Cask
Knockando 21 Year Old Master Reserve
Scotch 16-21 Years Single Cask
Longmorn 1998 21 Year Old The First Editions (Category Winner)
Scotch 22-27 Years Multiple Cask
Old Pulteney 25 Year Old
Scotch 22-27 Years Single Cask
Glenlossie 22 Year Old Golden Glen  (Category Winner)
Scotch 28-34 Years Multiple Cask
Glenfiddich 30 Year Old (Category Winner)
Scotch 28-34 Years Single Cask
Aberlour 1989 The Perfect Fifth
Scotch 35-40 Years Multiple Cask
Port Ellen 40 Year Old 9 Rogue Casks
Scotch 35-40 Years Single Cask
Lochside 1981 The Whisky Agency (Category Winner)
Scotch 41 Years & Over Multiple Cask
Tomatin 1977 Warehouse 6 Collection
Scotch 41 Years & Over Single Cask
Glen Grant 1956 Mr George Centenary Edition Gordon & MacPhail (Category Winner)
BLENDED SCOTCH
Blended Scotch No Age Statement (Standard)
White Horse
Blended Scotch No Age Statement (Premium)
Johnnie Walker Blue Label Ghost & Rare Glenury Royal
Blended Scotch 5-12 Years
Johnnie Walker Black Label 12 Year Old
Blended Scotch 13-18 Years
Ballantine's 17 Year Old
Blended Scotch 19-25 Years
Dewar's Signature 25 Year Old
Blended Scotch 26-39 Years
Ballantine's 30 Year Old (Overall Winner)
Blended Scotch 40 Years & Over
Whyte & Mackay 50 Year Old
IRISH WHISKEY
Irish Whiskey of the Year
Midleton Barry Crockett Legacy
Irish Pot Still Whiskey of the Year
Midleton Barry Crockett Legacy
Irish Single Malt of the Year
Bushmills Port Cask Reserve
Irish Blend of the Year
Bushmills Black Bush
Irish Single Cask of the Year
Redbreast Dream Cask 28 Year Old
AMERICAN WHISKEY
Bourbon of the Year
Stagg Jr Barrel Proof (64.2%)
Second Finest Bourbon of the Year
William Larue Weller 2019 Release
Bourbon No Age Statement (Multiple Barrels)
Stagg Jr Barrel Proof (64.2%)
Bourbon No Age Statement (Single Barrel)
Elmer T. Lee 100 Year Tribute Kentucky Straight Bourbon Whiskey
Bourbon 9 Years & Under
Bib & Tucker Small Batch Bourbon 6 Year Old
Bourbon 10-12 Years
Michter's Single Barrel 10 Year Old Kentucky Straight Bourbon
Bourbon 13-15 Years
Knob Creek 15 Year Old
Bourbon 16 Years & Over
Michter's 20 Year Old Kentucky Straight Bourbon
Rye of the Year
Thomas H. Handy Sazerac 2019 Release
Second Finest Rye of the Year
Wild Turkey Cornerstone
Rye No Age Statement
Thomas H. Handy Sazerac 2019 Release
Rye Up to 10 Years
Wild Turkey Cornerstone
Rye 11-15 Years
Van Winkle Family Reserve 13 Years Old
Rye Over 15 Years
Sazerac 18 Year Old
Rye Single Cask
Michter's 10 Year Old Single Barrel Kentucky Straight Rye
US Micro Whisky of the Year Multiple Barrels
Garrison Brothers Balmorhea Texas Straight Bourbon Whiskey 2020 Release
US Micro Whisky of the Year Single Barrel
Woodinville Straight Bourbon Whiskey Private Select
American Blended Whiskey of the Year
Michter's Celebration Sour Mash Whiskey Release No. 3
CANADIAN WHISKY
Canadian Whisky of the Year
Alberta Premium Cask Strength Rye
Second Finest Canadian Whisky of the Year
Canadian Club Chronicles 42 Year Old
JAPANESE WHISKY
Japanese Whisky of the Year
Nikka Whisky Single Malt Yoichi Apple Brandy Wood Finish
Japanese Single Grain of the Year
Makoto Single Grain Whisky 23 Year Old
Japanese Single Malt of the Year
Nikka Whisky Single Malt Yoichi Apple Brandy Wood Finish
Japanese Single Cask of the Year
The Matsui Single Cask Mizunara Cask Single Malt
EUROPEAN WHISKY
European Whisky of the Year (Multiple Cask)
Puni Aura Italian Single Malt
European Whisky of the Year (Single Cask)
Braeckman Belgian Single Grain Whiskey Single Barrel 12 Year Old
Austrian Whisky of the Year
J.H. Original Rye Whisky 6 Jahre Gelagert
Belgian Whisky of the Year
Braeckman Belgian Single Grain Whiskey Single Barrel 12 Year Old
Danish Whisky of the Year
Copenhagen Single Malt Whisky First Edition
English Whisky of the Year
The English 11 Year Old Single Malt Whisky
German Whisky of the Year
Hercynian Willowburn Exceptional Collection 5 Year Old
Swedish Whisky of the Year
Mackmyra Svensk Single Cask Whisky Reserve The Dude of Fucking Everything
Swiss Whisky of the Year
Langatun 10 Year Old Second Edition Single Malt
Welsh Whisky of the Year
Penderyn Rhiannon
WORLD WHISKIES
Asian Whisky of the Year
Paul John Mithuna
Southern Hemisphere Whisky of the Year
Adams Distillery Tasmanian Single Malt Whisky Cask Strength
Australian Whisky of the Year
Adams Distillery Tasmanian Single Malt Whisky Cask Strength